Yesterday in AOCs Make Faster, Lighter Connections, I discussed how active optical cables (AOCs) are, in some applications, replacing copper in high-speed links used in datacenters.
While AOCs may be able to move more data, are lighter, and produce less heat than copper cables, they require complete optical transceivers -- E/O and O/E converters -- on each end. The optical components drive up the cost of using fiber as compared to copper and thus limits fiber deployment. Figure 1 from TE Connectivity shows that as speeds increase, optics move closer to the protocol chips found in networking equipment.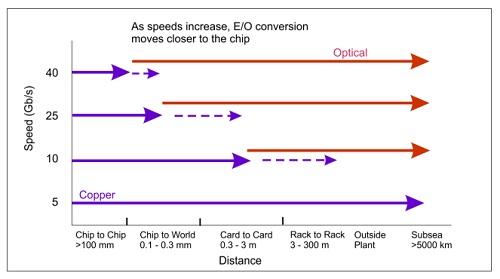 A possible solution to reduce the cost of the optics is silicon photonics, where the optical components of a transceiver are fabricated on silicon. That carries the "Optical" lines in Figure 1 a step further to the left. Several companies are now producing photonics on silicon, with the most information coming from Intel and IBM.
Intel has been working with the University of California, Santa Barbara (UCSB) to develop the devices that produce, modulate, and steer light on the transmit side with laser-light sources, optical modulators, amplifiers, multiplexers, and waveguides. Optical receivers need photodetectors, amplifiers, demultiplexers, and waveguides. All of the components are fabricated using CMOS processes, which, because of their high volume, produce devices as relatively low cost
On July 27, 2010, Intel announced that it had produced a 50Gbit/s photonic link that uses four 12.5Gbit/s lanes, each lane transmitted on a unique wavelength. The company claimed that a test had a bit-error rate of ‹3e-15.
Figure 2 shows the optical interconnect between a board and an optical connector with alignment pins. The shielded area on the board contains an optical transmitter that's a bonded flip-chip. The document linked above shows this photograph annotated that points out the components.
The video below shows a demonstration of the link.
Around the same time as the Intel announcement, researchers from Sun, Luxtera, and Kotera published "Ultralow-Power Silicon Photonic Interconnect for High-Performance Computing Systems," where they developed optical components using several processes and bonded them to silicon devices. The intent was not to produce a production product, but to prove how the photonic components could work with silicon electronics.
In the 2010 presentation linked above, Intel predicted that the data rate per lane would increase to 25Gbit/s per lane. That's now happened as described in a December 2012 IBM paper, "A 90nm CMOS Integrated Nano-Photonics Technology for 25Gbps WDM Optical Communications Applications." The paper shows the structure of the optical components fabricated on silicon and presents test results showing their performance characteristics.
Silicon photonics could prove to be the technology that puts fiber in places where only copper now goes. It could signify a cost structure that not only lightens the physical load, but runs cooler and is less susceptible to EMI than copper.